L'Oréal's Makeup Genius App: The Cosmetics Counter Goes Digital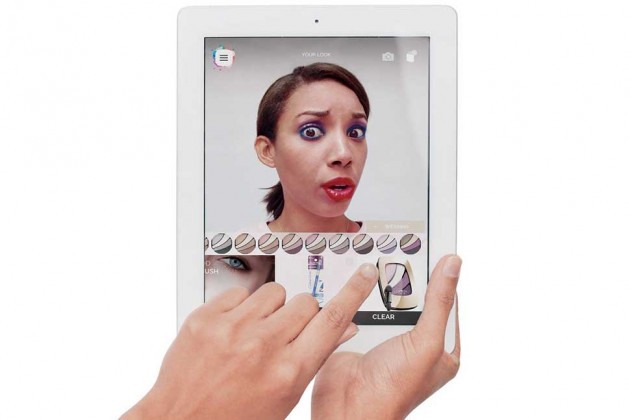 Photograph by Andrew Musson
A combo of darker lipstick, eyeliner, and eye shadow. It's a bit much
Aryanna Dudnat, a beauty adviser at a Duane Reade in Midtown Manhattan, was hired to help women find new cosmetics. Instead, she often cleans up after customers. "Every day, I come in and find that people have unwrapped products," she says. She doesn't blame them. "We don't carry testers, and buying makeup without trying it is risky." The art of purchasing drugstore cosmetics is wildly imperfect, verging on absurd—you're expected to choose a foundation by comparing the color of the bottle to the color of your arm and to spend $10 on a lipstick after holding it next to your face in front of a tiny mirror.
L'Oréal (OR:FP), the French beauty giant, thinks there's a better way. In June the company released Makeup Genius, an app that lets you see yourself in real time wearing products that aren't actually on your face. When you smile, pucker up, or wink, the virtual cosmetics move along with you. If you turn rapidly to the side, the screen lags a second before the digital mask jostles back into place. You can apply, say, a lip liner with a lipstick or choose from full looks such as Evening Smokey and Jennifer's Nude (as in J. Lo), created with a bundle of products.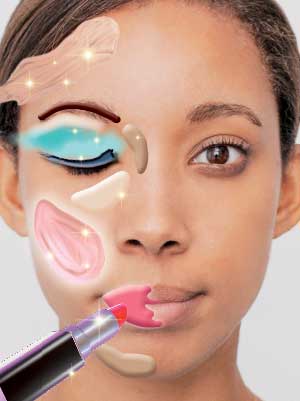 Photograph by Andrew Musson
"If you hold your phone here rather than here, the lighting will be different, and the color will look different," says Guive Balooch, global director of the company's Connected Beauty Incubator. Hidden in a tiny, windowless section of an office building in Clark, N.J., Balooch's tech lab houses 15 engineers and scientists. (In addition to Makeup Genius, the team has a few other projects in the works but won't divulge details.) The office-within-an-office looks like a Silicon Valley gag, with whiteboards, colorful walls, and a silver ceiling that gives off a futuristic vibe. "We completely renovated this little area," Balooch says, comparing it with the beige cubicle landscape that fills out the rest of the floor.
Balooch, perfectly groomed with spiky salt-and-pepper hair, has a Ph.D. in biomaterials and came up with the idea for Makeup Genius with a fellow biologist during a brainstorming session 18 months ago. At the time, several cosmetics companies, including L'Oréal, were offering virtual makeup counters on their websites and at drugstores, but most required users to upload a picture and Photoshop lipstick and eye shadow onto the static image—a time-consuming process. "The Walmarts (WMT) don't have time for high-end makeup artists," Balooch says. "But there are thousands of colors, and how do women know which will look good on them?"